Â
Here are some tips for enjoying a worry free, fun filled boating season, from boat insurance to emergency equipment being prepared mean fun for everyone.
Getting out on the water with family and friends should be fun, building happy memories to last a lifetime. Here are some tips from finding boat insurance to filing a boat plan that will help make sure that your time on the water is without worry and leaves you with only good times to remember:
Plan and prepare
Take care of routine maintenance before you hit the waves. Just as you'd take your car for a tune-up before a long drive, be certain that your boat is in good working condition. This is the time to repair any damage, do engine maintenance and stock up on supplies – before you end up stranded.
Emergency Preparedness
Check that your first aid kit for the boat is fully stocked and that none of the ointments or pain relief medications has expired. Be sure to carry emergency gear with you so that in the event of an emergency you have adequate supplies to last until help arrives. Items you need include water, flashlights, non-perishable food items, waterproof matches and warm clothing or blankets. Also be ready to file a float plan with a friend or at the marina by giving someone written details about where you are going, who is on the boat and when you will be back. Make sure to check in when you return from your trip or if you need to modify your float plan.
Lifejacket Inventory
Take a look at your lifejackets and Personal Flotation Devices (PFDs) to ensure they are in good condition and will still fit family and friends who routinely join you for boating. You should have a lifejacket for each person on your vessel.
Get a Deal on the Equipment You Need
You can often buy new lifejackets and other boating equipment at a discounted rate early and late in the season. Water sports stores will also occasionally resell used equipment so if you have given up skiing but need new lifejackets you may be able to turn in your old skis for a store credit to purchase the boating equipment that you want.
Review Insurance for your Boat
Make time to review the insurance for your boat. Does your boating insurance policy cover you adequately for liability or in case of accident or other mishap? If you have made any updates to your boat have you notified your boat insurance company?
Put Your Boat in Early
If you'll be using a busy marina arrive early or during the week and allow plenty of time so you don't feel rushed and stressed out when the boater ahead of you takes longer than expected.
Make a difference to boating safety statistics
Practice safe boating procedures so that your time on the water is fun. Here's some information about contributing factors to boating accidents: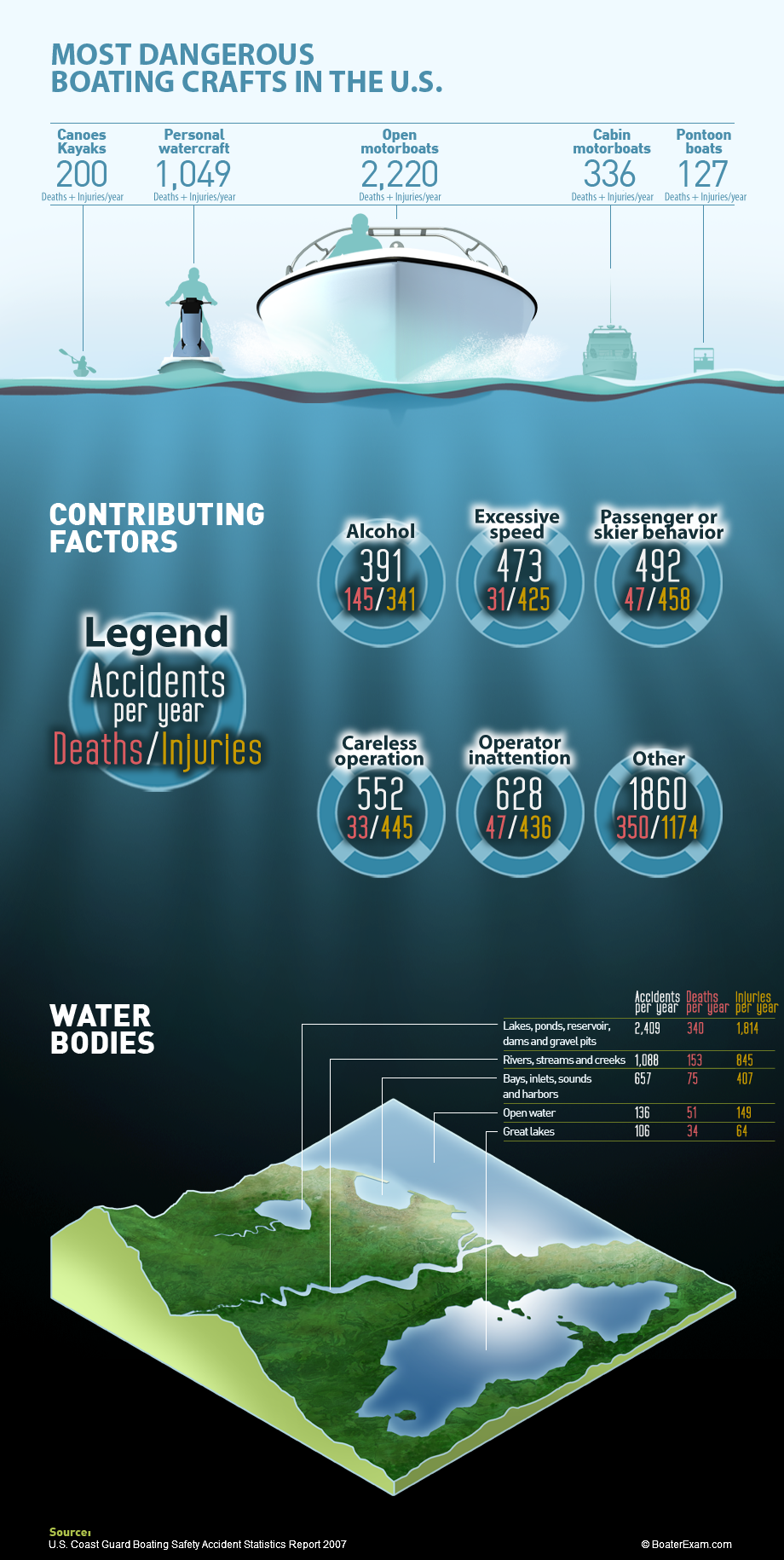 Graphic courtesy of BoaterExam.com – Get Your Boating License Online!
Remember driving under the influence when boating is as dangerous as getting behind the wheel of a car while intoxicated.
Stay informed of weather changes and water conditions, and operate your boat with caution to ensure other boaters are safe, too.
Taking online boating safety education and getting certified in boating safety is proven to reduce your chances of being in a boating accident. They can also reduce the rates you pay for boating insurance.
Make sure everyone that will be driving your boat this year remembers navigation rules, safe boating practices and is comfortable as the captain.
To review your boat insurance coverage and needs with knowledgeable marine insurance professionals, contact the recreational and commercial boat insurance experts at Global Marine Insurance.
Â